Burnout is a state of emotional and physical exhaustion caused by a prolonged period of stress and frustration. In the early stages, it involves emotional and physical exhaustion, depersonalization, and a diminished sense of personal accomplishment. But if not ameliorated, it can progress into a loss of both satisfaction and a sense of efficacy. It can leave you feeling like Sisyphus, endlessly pushing a large rock up a steep hill, only to find it rolling back to the bottom every time you near the top. Eventually, it can lead to reduced work hours or people exiting their jobs or profession–if they have a choice. Many of us have experienced it at some point in our lives–if only for short periods. And the numbers seem to be growing–as does the length of time it engulfs them. Which brings us to the issue of the day. Today, burnout is omnipresent, affecting people across all spectrums and in almost all professions. So, why the focus on physicians in today's newsletter?
First, burnout has become so pervasive among physicians that being a doctor tracks as the number one profession for suffering from burnout. Thus, the title for our newsletter: Physician Heal Thyself. [I couldn't resist.]
But second, and more important, is a new paper published by the Harvard T.H. Chan School of Public Health, the Harvard Global Health Institute, the Massachusetts Medical Society and the Massachusetts Health and Hospital Association (MHA) that focuses on this very issue and calls the condition a public health crisis.1 Ashish K. Jha, K.T. Li, Andrew R. Iliff, Alain A. Chaoui, et al. "A Crisis in Health Care: A Call to Action on Physician Burnout." Massachusetts Medical Society, Massachusetts Health and Hospital Association, Harvard T.H. Chan School of Public Health, and Harvard Global Health Institute. January 2019. http://cdn1.sph.harvard.edu/wp-content/uploads/sites/21/2019/01/PhysicianBurnoutReport2018FINAL.pdf This paper is, in fact, the trigger for today's newsletter and is worth looking at for two reasons:
If your doctor is suffering from burnout when diagnosing/treating you–or operating on you, for that matter–that's a big deal.
The core of the problem for doctors is something that affects us all, so understanding burnout and how to deal with it can make a huge difference in our own lives.
So, at the beginning of this newsletter, we're going to focus on this paper and its topic of physician burnout. But at the end, we'll connect the dots and bring it back to talk about burnout as it concerns every one of us and talk about ways to deal with it beyond the medical standards of psychotherapy and psychotropic drugs.
With our direction now set, let's take a look at the paper.
A Crisis in Health Care: A Call to Action on Physician Burnout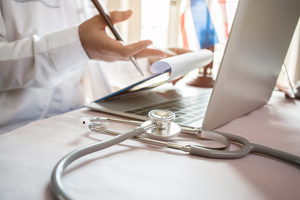 To quote from the paper: physician burnout "has become widespread in our profession, driven by rapid changes in health care and our professional environment. As physicians, we have seen how frustrating computer interfaces have crowded out engagement with patients, undermining patient encounters for both physicians and patients. We felt how long work days become still longer as physicians struggle to keep up with a soaring burden of administrative tasks. We know how the very goals of patient care can be distorted by the demands of documentation or quality measures."
While burnout has long been a worry in the medical profession, this report addresses a newer phenomenon: the quantity of documentation and data entry now required of doctors is physically and mentally breaking them. Today's electronic record systems are so complex that a simple task, such as ordering a prescription, can take many clicks.

Does that sound familiar? Is interfacing with computers sucking more and more of your time? (Remember, that frustrating experience you recently had talking with a computer robot on the phone counts as interfacing with computers.) Even worse, have you noticed how administrative tasks at work and at home have increased thanks to all the computers and connected gadgets we've brought into our houses to make life easier? In other words, despite all the advancements of computer automation, is it taking you more time to complete once simple tasks?
"We believe that physician burnout is a public health crisis, an assessment that has been echoed by others in both major medical journals and in the lay press. A primary impact of burnout is on physicians' mental health, but it is clear that one can't have a high performing health care system if physicians working within it are not well. Therefore, the true impact of burnout is the impact it will have on the health and well-being of the American public."
This is a very euphemistic way of stating the problem. We've explored before how large numbers of physicians have turned to drink. Back in 2012, a report published in the Archives of Surgery says that one out of every six US surgeons has a drinking problem. And then there's the fact that doctors commit suicide at rates substantially higher than the general public. While the suicide rate for male physicians is about three times higher than for men in the general public, for women, the difference is staggering. Female physicians kill themselves at a 500 percent higher rate than their peers outside the profession. While the number of doctors in the US who die by suicide each year might seem small at first glance–about 400 annually–that number is the equivalent of the entire enrollment of a large medical school. But more notably, suicide counts as the number two cause of death among physicians (after accidents). That's some serious burnout!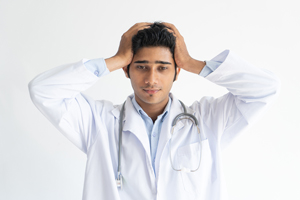 "In particular, this report emphasizes the structural dimension of this crisis. Too many physicians find that the day-to-day demands of their profession are at odds with their professional commitment to healing and providing care. The demoralizing misalignment of the physician's values and his or her ability to meet his or her patient's needs, due to conditions beyond the physician's control, such as poverty, lack of insurance authorization, or unreasonably short appointment times, has been termed "moral injury."2 Talbot SG, Dean W. "Physicians aren't "burning out. They're suffering from moral injury." STAT. July 26, 2018. (Accessed 15 Nov 2018.) http://www.statnews.com/2018/07/26/physicians-not-burning-out-they-are-suffering-moral-injury It is not that physicians are inadequately "tough enough" to undertake their work, but that the demands of their work too often diverge from and indeed contradict their mission to provide high-quality care. While individual physicians can take steps to better cope with the stress of "moral injury" and hold at bay the symptoms of burnout, meaningful steps to address the crisis and its root causes must be taken at a systemic and institutional level."
When the source of the burnout is systemic and beyond your control, there's only so much you can do on your own without fundamental changes from "above." Fortunately, doctors, if they can coalesce around the problem and take unified action, are powerful enough to effect change. Unfortunately, unlike doctors, most people don't work in a situation where they can influence the burnout factors imposed upon them by their employers and inherent in their jobs. In other words, for most of us, we're not going to be able to change our situation, so we're going to have to change how we deal with it. But let's dig deeper into the report.
"The beginning of the ongoing crisis of physician burnout can be traced to several events. While some may point to the passage of the Affordable Care Act (ACA) in 2010 — the most significant single change in the landscape of American health care — the roots of the crisis likely precede the ACA.3 Alexander AG, Ballou KA. "Work-Life Balance, Burnout, and the Electronic Health Record." Am J Med. 2018;131(8):857-858. http://www.amjmed.com/article/S0002-9343(18)30286-9/fulltext For example, the "meaningful use" of electronic health records (EHRs), which transformed the practice of many physicians, was mandated as part of the 2009 American Reinvestment and Recovery Act. Looking further back, the 1999 publication of the Institute of Medicine's "To Err is Human" report, highlighting the prevalence of medical errors, brought new attention to quality improvement and the value of physician reporting and accountability."
Quite simply, the exploding quantity of mandatory measurement and documentation imposed by current electronic health record keeping, due to state and federal regulatory requirements, not to mention the need to dance through insurance/payer controls, means that physicians typically spend two hours doing computer work for every hour spent face to face with a patient. And this includes numerous hours after work — so-called "pajama time" — completing online administrative tasks that do little if anything to advance the goals of patient care. While doctors acknowledge that electronic records hold many advantages over paper charts, they say computers have become an obstacle — literally — that can hinder conversation with patients. And of course, on top of that, doctors can find themselves spending hours trying to persuade insurers to reimburse them for necessary tests and services.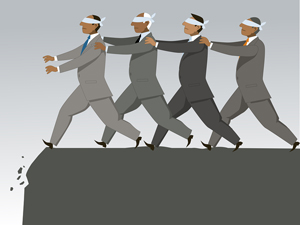 "A lot of physicians feel they are on a treadmill, on a conveyor belt," said Dr. Alain A. Chaoui, president of the Massachusetts Medical Society and a family doctor in Peabody. "They're not afraid of work — it's the work that has nothing to do with the patients that makes physicians unhappy. And it makes the patients unhappy, because they feel the system is failing them."
Studies show that burnout has costly consequences for doctors as well as patients, and for the health care system as a whole. We've already talked about how the doctors themselves have elevated rates of alcoholism and suicide. But there's also the fact that when doctors are less engaged, patients are less satisfied. Burned-out physicians are more likely to make mistakes. They're also more likely to reduce their hours or retire early. This affects their employer's (hospital, clinic, etc.) bottom line: Each departing doctor costs as much as $500,000 to $1 million to replace, according to one study.
"The prevalence of physician burnout has reached critical levels. Recent evidence indicates that nearly half of all physicians experience burnout in some form.4 Kumar S. "Burnout and Doctors: Prevalence, Prevention and Intervention." Healthcare (Basel). 2016 Sep; 4(3): 37. http://www.ncbi.nlm.nih.gov/pmc/articles/PMC5041038/ , 5 Dyrbye LN, Burke SE, Hardeman RR, et al. "Association of Clinical Specialty With Symptoms of Burnout and Career Choice Regret Among US Resident Physicians." JAMA. 2018;320(11):1114-1130. http://jamanetwork.com/journals/jama/article-abstract/2702870 And it appears to be getting worse. The 2018 Survey of America's Physicians Practice Patterns and Perspectives, conducted by Merritt Hawkins on behalf of the Physicians Foundation, finds that 78% of surveyed physicians experience feelings of professional burnout at least sometimes, an increase of 4% from the 2016 survey.6 Hawkins M. "2018 Survey of America's Physicians: Practice Patterns & Perspectives." The Physicians Foundation. September 2018. http://physiciansfoundation.org/wp-content/uploads/2018/09/physicians-survey-results-final-2018.pdf "
Surveys indicate that 50 percent to as many as 78 percent of doctors have at some point experienced burnout — described as emotional exhaustion and disengagement from their work — as they contend with the realities of modern medicine. And one of the studies referred to above found 45 percent of physicians who responded experienced at least one major symptom of burnout, with those in urology, neurology, emergency medicine, and general surgery at the highest risk. Residents with burnout had more than a threefold increase in odds of regretting their decision to become a physician. When asked, "If you could revisit your career choice, would you choose to become a physician again?" those in pathology and anesthesiology were also most likely to respond "definitely not" or "probably not." Regardless of specialty, high levels of anxiety and low levels of empathy reported during medical school were associated with burnout symptoms during residency.
"Burnout has a demonstrable impact on physician work hours and professional exit. Every one-point increase in burnout (on a seven-point scale) is associated with a 30–40% increase in the likelihood that physicians will reduce their work hours in the next two years.7 Shanafelt TD, Mungo M, Schmitgen J, et al. "Longitudinal Study Evaluating the Association Between Physician Burnout and Changes in Professional Work Effort." Mayo Clin Proc. 2016;91(4):422-431. http://www.ncbi.nlm.nih.gov/pubmed/27046522 Overall, burnout contributes to a 1% reduction in physicians' professional work effort. That may not sound like a lot, but this reduction roughly equates to losing the graduates of seven medical schools annually — and that's before accounting for other outcomes of burnout such as early retirement or leaving the profession altogether.8 Shanafelt, Mungo "
The next paragraph from the report will give you a better sense of how this affects your own personal health.
"The US Department of Health and Human Services (HHS) has predicted a shortage of up to 90,000 physicians by the year 2025. One of the underlying drivers of this shortage will be the loss of practicing clinicians due to burnout.9 Shanafelt TD, Dyrbye LN, West CP, Sinsky CA. "Potential Impact of Burnout on the US Physician Workforce." Mayo Clin Proc. 2016;91(11):1667-1668. http://www.mayoclinicproceedings.org/article/S0025-6196(16)30508-0/fulltext Efforts to replace lost physicians come at a steep cost to employers. One estimate of the lost revenue per full-time-equivalent physician is $990,000, and the cost of recruiting and replacing a physician [as previously stated] can range from $500,000 to $1,000,000.10 Shanafelt T, Goh J, Sinsky C. "The Business Case for Investing in Physician Well-being." JAMA Intern Med. 2017;177(12):1826. http://www.ncbi.nlm.nih.gov/pubmed/28973070
"Nor is the impact of burnout limited to physicians and their employers. Patients do not like being cared for by physicians who are experiencing symptoms of burnout, which is significantly correlated with reduced patient satisfaction in the primary care context.11 Anagnostopoulos F, Liolios E, Persefonis G, Slater J, Kafetsios K, Niakas D. "Physician Burnout and Patient Satisfaction with Consultation in Primary Health Care Settings: Evidence of Relationships from a one-with-many Design." J Clin Psychol Med Settings. 2012;19(4):401-410. http://www.ncbi.nlm.nih.gov/pubmed/22327237 Evidence further suggests that burnout is associated with increasing medical errors.12 Tawfik DS, Profit J, Morgenthaler TI, et al. "Physician Burnout, Well-being, and Work Unit Safety Grades in Relationship to Reported Medical Errors." Mayo Clin Proc. 2018;93(11):1571-1580. http://www.ncbi.nlm.nih.gov/pmc/articles/PMC6258067/ "
In a national survey of doctors published last year, 10.5 percent of study participants reported having made a major medical error recently, including errors in judgment, a mistaken diagnosis, or a technical error.13 Tawfik Fifty-five percent of the errors did not affect patient outcomes, 5.3 percent led to permanent health problems and 4.5 percent to a patient's death. Those who reported errors were more likely to be experiencing burnout, fatigue, and suicidal thoughts.

From a patient's perspective, that's a big deal.
What the Paper Recommended
"Physician burnout is a public health crisis that urgently demands action by health care institutions, governing bodies, and regulatory authorities. If left unaddressed, the worsening crisis threatens to undermine the very provision of care, as well as eroding the mental health of physicians across the country. While an exhaustive list of solutions to this crisis is beyond the scope of this report, the recommendations presented here represent concrete opportunities to stem the tide of the crisis both in the short and medium terms, while setting the stage for long-term improvement in both physicians' "joy in work" and health care more broadly — the 'Quadruple Aim.'"
Some of the specific recommendations include:
Support proactive mental health treatment and support for physicians experiencing burnout and related challenges
Institutions should immediately improve access to and expand health services for physicians, including mental health services. Physicians should be encouraged to take advantage of such services in order to prevent and, as needed, manage the symptoms of burnout.
Improved Electronic Health Records standards with strong focus on usability and open Application Programming Interfaces
In the medium term, addressing the burnout crisis will require significant changes to the usability of electronic health records, including reform of certification standards by the federal government, improved interoperability, the use of application programming interfaces (APIs) by vendors, dramatically increased physician engagement in the design, implementation, and customization of EHRs, and an ongoing commitment to reducing the burden of documentation and measurement placed on physicians by government, payers, and health care organizations.
Appoint executive-level chief wellness officers at every major health care organization
Finally, to successfully address the crisis in the long term, the appointment of executive-level chief wellness officers (CWOs) is essential. CWOs must be tasked with studying and assessing physician burnout at their institutions, and with consulting physicians to design, implement, and continually improve interventions to reduce burnout.
So, What Does this All Mean to Us?
The problem that doctors face with burnout affects us all, so understanding it and addressing it can make a huge difference in our own lives–and not just in terms of our facing diminished health care and a shortage of physicians. The thing is, as I said at the outset, when we talk about burnout, we're not just talking about doctors. Corporate Trainer & Consultant Mary Gormandy White identifies the following professions as prone to high burnout rates.14 Mary Gormandy White. "Which Professionals Are Prone to Burnout?" lovetoknow. (Accessed 22 Jan 2019.) http://stress.lovetoknow.com/Which_Professionals_are_Prone_to_Burnout
Physician
Nurse
Social Worker
Teacher
School Principal
Attorney
Police Officer
Public Accounting
Fast Food
Retail
Yes, physicians suffer the highest rate of burnout, but the rest of us are not far behind. Let's take a quick look at a couple of the other professions on the list to get a better sense of how prevalent the problem is.
Teachers
Roughly half a million U.S. teachers either move or leave the profession every year15 Seidel, A. "The teacher dropout crisis. NPR." NPR. July 18, 2014. (Accessed 22 Jan 2019.)

http://www.npr.org/sections/ed/2014/07/18/332343240/the-teacher-dropout-crisis

More than 41% of new teachers leave teaching within 5 years of entry.16 Ingersoll, R., Merrill, L., & Stuckey, D. "Seven trends: the transformation of the teaching force." CPRE April 2014. (Accessed 22 Jan 2019.)

http://www.cpre.org/sites/default/files/workingpapers/1506_7trendsapril2014.pdf

In 2012, Timothy Daly, president of the TNTP, said, "We lose so many great teachers, especially early in their career, that half of them are gone by year six."17 Beth Fertig. "Group Claims Best Teachers Are Given Short Shrift." TNTP July 30, 2012. (Accessed 22 Jan 2019.)

http://tntp.org/news-and-press/view/group-claims-best-teachers-are-given-short-shrift
And according to Psychology Today, teacher burnout is not just an American problem, it's an international epidemic.18 Jenny Grant Rankin."The Teacher Burnout Epidemic, Part 1 of 2." Psychology Today. Nov 22, 2016. (Accessed 22 Jan 2019.) http://www.psychologytoday.com/us/blog/much-more-common-core/201611/the-teacher-burnout-epidemic-part-1-2 "There is a steady supply of research on teacher burnout coming from Africa, Asia, Australia, Canada, Europe, Middle East, New Zealand, and South America. For example, nearly half of teachers in India suffer from burnout,19 Shukla, A., & Trivedi, T. "Burnout in Indian teachers." Asia Pacific Education Review; 2008 Vol. 9, No. 3, 320-334. http://pdfs.semanticscholar.org/3848/24576d1ad4ab6d02ca8b3110f054d33ef4e2.pdf and half of male and female teachers studied in southern Jordan suffer from emotional exhaustion associated with burnout.20 Alkhateeb1, O., Kraishan, O. M.,  & Salah, R. O. "Level of psychological burnout of a sample of secondary phase teachers in Ma'an Governorate and its relationship with some other variables." International Education Studies; Vol. 8, No. 6; 2015. http://files.eric.ed.gov/fulltext/EJ1067778.pdf The U.K.'s Education Staff Health Survey indicated 91% of school teachers suffered from stress in the past two years and 74% experienced anxiety; 91% reported excessive workload as the major cause (a 13% increase from the last six years).21 Julian Stanley. "How unsustainable workloads are destroying the quality of teaching." Schools Week. 13 Oct 2014. (Accessed 22 Jan 2019.) http://schoolsweek.co.uk/how-unsustainable-workloads-are-destroying-the-quality-of-teaching/ Though working conditions and demands can vary from country to country, it seems that if a country has an established educational system then many of its teachers are experiencing burnout."
Police Officers
As listed above, police officers suffer from high levels of burnout. And we've also mentioned that the problem of burnout is international. So, let's combine those two facts and look at a study entitled: Prevalence and risk factors of burnout syndrome among Spanish police officers.22 De la Fuente Solana EI1, Aguayo Extremera R, Vargas Pecino C, Cañadas de la Fuente GR. "Prevalence and risk factors of burnout syndrome among Spanish police officers." Psicothema. 2013;25(4):488-93. http://www.ncbi.nlm.nih.gov/pubmed/24124782
"The results of the study indicate low level of job satisfaction and hence signals of burnout in police employees. Male employees face with a significantly higher level of negative impacts of irregular working hours, high level of bureaucracy, limited promotion opportunities and unfair promotion practices. They also report experiencing higher levels of negative personal feelings about themselves and their surroundings. Ordinary police officers report that they experience a higher level of unfairness in promotions as well as distribution of work responsibilities. They claim that promotion opportunities are more limited for themselves compared to ranking officers. They feel that they cannot trust their superiors when it comes to their support in case they are in trouble because of something they did during performing their work. Ordinary police officers complain more about lack of time for their families while ranking officers regret their career choice and feel trapped in the police organization. On the other hand, police employees with more experience complain significantly more about frequent changes in regulations and legislation, lack of support from their superiors when they are faced with a problem at work, lack of appropriate financial compensation for their efforts, and occupational health problems compared to police employees with less experience."
That pretty much could have been written, word for word, for police officers in any country.
What Can I Do?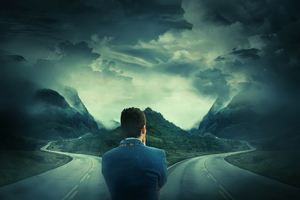 In the end, unless you're one of the lucky few, burnout is going to be a problem wherever you work, whatever you do. So, what can you do about it if you can't walk away from your job–other than go to therapy and take psychotropic drugs? (Despite their dubious effectiveness, more than half the people on sick leave due to burnout use psychotropic drugs such as antidepressants and sleep medication.23 Grensman, A., Acharya, B. D., Wändell, P., Nilsson, G., Werner, S. "Health-related quality of life in patients with Burnout on sick leave: descriptive and comparative results from a clinical study." Int Arch Occup Environ Health. 2016 Feb;89(2):319-29 , 24 Kakiashvili, T., Leszek, J., & Rutkowski, K. (2013). "The medical perspective on burnout." Int J Occup Med Environ Health. 2013 Jun;26(3):401-12. http://ijomeh.eu/The-medical-perspective-on-burnout,2186,0,2.html )
That is the big question, isn't it? Do you really want to turn to pharmaceuticals? As for the alternative, not all of us have the financial and positional power of physicians to force changes on a reluctant bureaucracy. And keep in mind, that even with that power, physicians still suffer the highest rates of burnout for any profession. As for the rest of us, without the financial resources or skills/education to change careers, quitting just isn't a viable option for most of us. So, is there any way to manage burnout and get past it other than resorting to pharmaceuticals? And the answer is yes, but it's not necessarily easy. If you can't change your circumstances, you have to change how your mind deals with them, and that takes work–which most people don't want to do, especially if they're in burnout mode.
As Dr. John Christopher, one of America's foremost naturopaths, was fond of saying, "Most people need a colonic between the ears." If you want to make your mind a partner in overcoming burnout, you need to work at it. Make the effort to move your mind out of the stress and/or depression associated with burnout and into relaxation. Listed below are ways to begin the process. Note: these are variations of my recommendations for how to deal with stress, which makes sense when you consider that stress is the primary trigger for burnout.
Learn to meditate. And if you can't do that, just try watching your breath. Sit down, with your back straight, close your eyes, and concentrate on your breathing. Watch as your breath goes in and your lungs fill and watch as it goes out and your lungs empty. Don't force; just watch. Enjoy the spaces between inhalation and exhalation. Just 15 minutes before bed can do wonders.
Learn to visualize. After you've meditated for a few minutes and calmed down, practice a visualization. See your body as made of healing light and imagine this light penetrating and soothing every cell in your brain and body.
Practice alternate nostril breathing as described below.
Some forms of exercise can be great stress busters. Tai chi, yoga, walking, swimming, even going for a run can all help. Whatever works for you.
Practice affirmation. What we say matters. We all probably know, for example, someone who uses the word "afraid" all the time. As in: "I'm afraid I won't be able to go tonight" or "I'm afraid I've eaten too much; I'm absolutely stuffed." Is it any wonder that eventually they're afraid all the time? Dr. Bernie Siegel includes several examples of this negative thinking in his book Love, Medicine, and Miracles, such as the man who said "he was always considered spineless" and in the end developed multiple myeloma in his backbone to support his contention. Or the woman who had had a mastectomy who kept telling Dr. Siegel that she "needed to get something off her chest." And if you're always telling everyone how stressed and burnt out you are, then burnout is a certainty.Instead of being controlled by the things we say, instead of having your health compromised by idle words, you should put words to work for you. Try repeating to yourself over and over with each step you take when you walk, or while you're driving, something like "I'm joy. I'm peace. I'm health. I'm light." Or make up your own affirmation–make it short and rhythmic, so that it almost says itself to a walking cadence. It really works magic. I once hiked the John Muir Trail, starting in the Yosemite Valley in California's Sierra Nevada Mountains, about 237 miles in all, silently reciting a similar affirmation every step of the way. By the end of the trip, I had repeated the affirmation over 500,000 times, and I had sailed over 10,000-foot passes and up and down the 14,500 feet of Mt. Whitney.
Take a break from the stress with herbs and/or nutraceuticals. Use a nerve tonic formulation that contains herbs such as ashwagandha and bacopa.
Try using SAMe–200–1,600 mg a day.
Alternate Nostril Breathing
This is a very powerful stress buster.
First, close your right nostril with your right thumb and inhale through the left nostril to the count of four. Then, close both nostrils (using your right ring finger and little finger to close the left nostril) and hold for a count of sixteen. Now, remove your thumb from the right nostril, and exhale through this nostril to the count of eight. This completes a half round. Next, inhale through the right nostril to the count of four. Hold both nostrils closed for a count of sixteen. Then, close the right nostril with your right thumb and exhale through the left nostril to a count of eight. This completes one full round. If you need to, take it down to a count of three, twelve, and six to get started. As you get more comfortable, you can slowly increase the times of inhalation, holding, and exhalation to whatever feels comfortable, but always keep the 1:4:2 ratio. Do not strain. Repeat three rounds.
Then sit and meditate for a few minutes if you have the time.
As you can see, there are many alternatives to try. Using psychotropic drugs to deal with burnout before trying these options first is not a healthy way to go. Only when all other options have been tried first, should you turn to pharmaceutical solutions.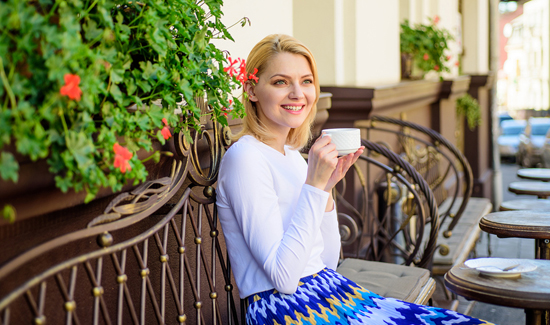 References

↑

1
Ashish K. Jha, K.T. Li, Andrew R. Iliff, Alain A. Chaoui, et al. "A Crisis in Health Care: A Call to Action on Physician Burnout." Massachusetts Medical Society, Massachusetts Health and Hospital Association, Harvard T.H. Chan School of Public Health, and Harvard Global Health Institute. January 2019.

http://cdn1.sph.harvard.edu/wp-content/uploads/sites/21/2019/01/PhysicianBurnoutReport2018FINAL.pdf

↑

2
Talbot SG, Dean W. "Physicians aren't "burning out. They're suffering from moral injury." STAT. July 26, 2018. (Accessed 15 Nov 2018.)

http://www.statnews.com/2018/07/26/physicians-not-burning-out-they-are-suffering-moral-injury

↑

3
Alexander AG, Ballou KA. "Work-Life Balance, Burnout, and the Electronic Health Record." Am J Med. 2018;131(8):857-858.

http://www.amjmed.com/article/S0002-9343(18)30286-9/fulltext

↑

4
Kumar S. "Burnout and Doctors: Prevalence, Prevention and Intervention." Healthcare (Basel). 2016 Sep; 4(3): 37.

http://www.ncbi.nlm.nih.gov/pmc/articles/PMC5041038/

↑

5
Dyrbye LN, Burke SE, Hardeman RR, et al. "Association of Clinical Specialty With Symptoms of Burnout and Career Choice Regret Among US Resident Physicians." JAMA. 2018;320(11):1114-1130.

http://jamanetwork.com/journals/jama/article-abstract/2702870

↑

6
Hawkins M. "2018 Survey of America's Physicians: Practice Patterns & Perspectives." The Physicians Foundation. September 2018.

http://physiciansfoundation.org/wp-content/uploads/2018/09/physicians-survey-results-final-2018.pdf

↑

7
Shanafelt TD, Mungo M, Schmitgen J, et al. "Longitudinal Study Evaluating the Association Between Physician Burnout and Changes in Professional Work Effort." Mayo Clin Proc. 2016;91(4):422-431.

http://www.ncbi.nlm.nih.gov/pubmed/27046522

↑

8
Shanafelt, Mungo

↑

9
Shanafelt TD, Dyrbye LN, West CP, Sinsky CA. "Potential Impact of Burnout on the US Physician Workforce." Mayo Clin Proc. 2016;91(11):1667-1668.

http://www.mayoclinicproceedings.org/article/S0025-6196(16)30508-0/fulltext

↑

10
Shanafelt T, Goh J, Sinsky C. "The Business Case for Investing in Physician Well-being." JAMA Intern Med. 2017;177(12):1826.

http://www.ncbi.nlm.nih.gov/pubmed/28973070

↑

11
Anagnostopoulos F, Liolios E, Persefonis G, Slater J, Kafetsios K, Niakas D. "Physician Burnout and Patient Satisfaction with Consultation in Primary Health Care Settings: Evidence of Relationships from a one-with-many Design." J Clin Psychol Med Settings. 2012;19(4):401-410.

http://www.ncbi.nlm.nih.gov/pubmed/22327237

↑

12
Tawfik DS, Profit J, Morgenthaler TI, et al. "Physician Burnout, Well-being, and Work Unit Safety Grades in Relationship to Reported Medical Errors." Mayo Clin Proc. 2018;93(11):1571-1580.

http://www.ncbi.nlm.nih.gov/pmc/articles/PMC6258067/

↑

13
Tawfik

↑

14
Mary Gormandy White. "Which Professionals Are Prone to Burnout?" lovetoknow. (Accessed 22 Jan 2019.)

http://stress.lovetoknow.com/Which_Professionals_are_Prone_to_Burnout

↑

15
Seidel, A. "The teacher dropout crisis. NPR." NPR. July 18, 2014. (Accessed 22 Jan 2019.)

http://www.npr.org/sections/ed/2014/07/18/332343240/the-teacher-dropout-crisis

↑

16
Ingersoll, R., Merrill, L., & Stuckey, D. "Seven trends: the transformation of the teaching force." CPRE April 2014. (Accessed 22 Jan 2019.)

http://www.cpre.org/sites/default/files/workingpapers/1506_7trendsapril2014.pdf

↑

17
Beth Fertig. "Group Claims Best Teachers Are Given Short Shrift." TNTP July 30, 2012. (Accessed 22 Jan 2019.)

http://tntp.org/news-and-press/view/group-claims-best-teachers-are-given-short-shrift

↑

18
Jenny Grant Rankin."The Teacher Burnout Epidemic, Part 1 of 2." Psychology Today. Nov 22, 2016. (Accessed 22 Jan 2019.)

http://www.psychologytoday.com/us/blog/much-more-common-core/201611/the-teacher-burnout-epidemic-part-1-2

↑

19
Shukla, A., & Trivedi, T. "Burnout in Indian teachers." Asia Pacific Education Review; 2008 Vol. 9, No. 3, 320-334.

http://pdfs.semanticscholar.org/3848/24576d1ad4ab6d02ca8b3110f054d33ef4e2.pdf

↑

20
Alkhateeb1, O., Kraishan, O. M.,  & Salah, R. O. "Level of psychological burnout of a sample of secondary phase teachers in Ma'an Governorate and its relationship with some other variables." International Education Studies; Vol. 8, No. 6; 2015.

http://files.eric.ed.gov/fulltext/EJ1067778.pdf

↑

21
Julian Stanley. "How unsustainable workloads are destroying the quality of teaching." Schools Week. 13 Oct 2014. (Accessed 22 Jan 2019.)

http://schoolsweek.co.uk/how-unsustainable-workloads-are-destroying-the-quality-of-teaching/

↑

22
De la Fuente Solana EI1, Aguayo Extremera R, Vargas Pecino C, Cañadas de la Fuente GR. "Prevalence and risk factors of burnout syndrome among Spanish police officers." Psicothema. 2013;25(4):488-93.

http://www.ncbi.nlm.nih.gov/pubmed/24124782

↑

23
Grensman, A., Acharya, B. D., Wändell, P., Nilsson, G., Werner, S. "Health-related quality of life in patients with Burnout on sick leave: descriptive and comparative results from a clinical study." Int Arch Occup Environ Health. 2016 Feb;89(2):319-29

↑

24
Kakiashvili, T., Leszek, J., & Rutkowski, K. (2013). "The medical perspective on burnout." Int J Occup Med Environ Health. 2013 Jun;26(3):401-12.

http://ijomeh.eu/The-medical-perspective-on-burnout,2186,0,2.html