A new study demonstrates that ultra-processed food may lie at the heart of unwanted weight gain.
Unfortunately, ultra-processed foods are now almost impossible to avoid.
There may be a way, however, to minimize the damage done by those unhealthy foods that sneak their way into your diet.
---
Certainly, most of you reading this newsletter already know that processed foods are unhealthy. A small percentage of you manage to avoid them entirely. Good for you! But tens of thousands probably eat some every now and then–not like the mainstream population that literally "lives" on ultra-processed foods, but still more than is good for you. They're just too omnipresent, too convenient, and almost unavoidable. Heck, if you go to Whole Foods, there's whole sections of candies and sodas. And at the deli counter, all the meats are "manufactured" (i.e., processed) so that they're uniform and easy to slice. So, despite the best of intentions, most people who know better still eat some ultra-processed foods. And, of course, that's why many of you come to the Foundation website–to find out how to repair the damage. In any case, this issue of the newsletter is for all of you.
So, let's begin.
What's the Difference between Unprocessed Foods, Processed Foods, and Ultra-Processed Foods?
Unprocessed Foods
These are the easiest to understand. Think fresh foods. If you go to the farmers' market, or even your supermarket, and buy fresh vegetables that you bag yourself, those are unprocessed foods. If you go to Whole Foods or your local supermarket and have them custom cut a piece of meat (at the meat counter, not the deli counter), or grind some hamburger, or wrap up a piece of fish that's been sitting on ice, that's fresh food. Easy to understand. No processing.
Minimally Processed Foods
If you go to Trader Joes and grab a bag of vacuum-packed salad or pick up some shrink-wrapped meat, now we're talking about minimally processed foods. Nothing's been added, but it's been cleaned, portioned, and packaged for you.
Processed Foods
If instead of buying ears of fresh corn, you pick up some cans of canned corn–even if it's organic–you're now in the world of processed foods.
Ultra-Processed Foods
And if you pick up some pre-packaged muffins, or some sliced turkey, made from ground turkey meat with salt and sugar and preservatives added, frozen dinners, pre-packaged breakfast pastry, we're talking about ultra-processed foods. These are the ready-to-heat and ready-to-eat products created to replace traditional homemade meals and dishes due to the demand for convenience and accessibility that dominate most modern diets. And this is the focus of what we're going to be talking about in the rest of the newsletter.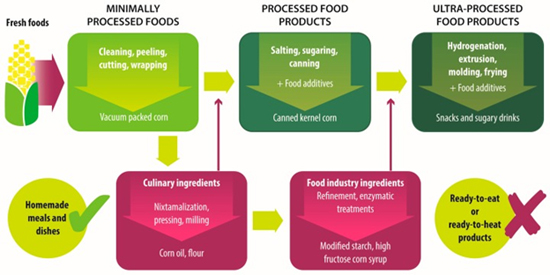 1 Sandra V. Aguayo-Patrón and Ana M. Calderón de la Barca. "Old Fashioned vs. Ultra-Processed-Based Current Diets: Possible Implication in the Increased Susceptibility to Type 1 Diabetes and Celiac Disease in Childhood." Foods. 2017 Nov; 6(11): 100. http://www.ncbi.nlm.nih.gov/pmc/articles/PMC5704144/
Health Consequences Already Associated with Ultra-Processed Foods
Ultra-Processed Foods Contribute to Diabetes and Celiac Disease
Because of their low-fiber, high-fat, and sugar composition, ultra-processed foods negatively impact health. Studies have shown that these types of foods are partially responsible for obesity and chronic non-transmissible diseases. And now, more recent studies have shown that they impact the prevalence of autoimmune diseases such as type 1 diabetes and celiac disease. For example, a 2017 study published in Foods, found that diets high in processed foods result in dysbiosis (an imbalance in your gut bacteria), promoting a pro-inflammatory response and, consequently, a "leaky gut."2 Sandra V. Aguayo-Patrón The high fat and sugar levels in these foods increase the abundance of Bacteroides (a genus of pathogenic bacteria found in the colon), which promotes a pro-inflammatory immune response, and increases epithelial permeability.3 Hannah M. Wexler. "Bacteroides: the Good, the Bad, and the Nitty-Gritty." Clin Microbiol Rev. 2007 Oct; 20(4): 593–621. http://www.ncbi.nlm.nih.gov/pmc/articles/PMC2176045/ In this way, gut microbiota dysbiosis is related to an increased risk of developing type 1 diabetes and celiac disease in genetically predisposed children. Additionally, ultra-processed foods often contain emulsifiers, which affect microbiota and epithelial integrity. Thus, ultra-processed food products likely contribute to an increased susceptibility to type 1 diabetes and celiac disease through microbiota imbalance.
Ultra-Processed Foods and Metabolic Syndrome
Metabolic Syndrome is defined, according to the 2009 Joint Scientific Statement, as meeting three or more of the following criteria:4 K.G.M.M. Alberti, Robert H. Eckel, Scott M. Grundy, et al. "Harmonizing the Metabolic Syndrome: A Joint Interim Statement of the International Diabetes Federation Task Force on Epidemiology and Prevention; National Heart, Lung, and Blood Institute; American Heart Association; World Heart Federation; International Atherosclerosis Society; and International Association for the Study of Obesity." Circulation October 20, 2009 Vol 120, Issue 16. http://www.ahajournals.org/doi/10.1161/CIRCULATIONAHA.109.192644
Elevated waist circumference
Elevated fasting plasma glucose
Elevated blood pressure
Elevated triglycerides
Reduced high-density lipoprotein (HDL-C).
Not surprisingly, since we have already established the connection to diabetes, the consumption of ultra-processed foods has been tied to all the criteria associated with metabolic syndrome.5 Steele EM, Juul F, Neri D, Rauber F, Monteiro CA. "Dietary share of ultra-processed foods and metabolic syndrome in the US adult population." Prev Med. 2019 May 8. pii: S0091-7435(19)30172-0. http://www.ncbi.nlm.nih.gov/pubmed/31077725 As just the latest example, a 2019 study published in Preventive Medicine, found simply increasing the ultra-processed food contribution of one's diet from 40% to 71% or higher, increased the risk of metabolic syndrome by 28%. The association was strongest in young adults.
Ultra-Processed Foods Are Associated with Depression
A French study published in 2019 in BMC Medicine investigated whether the proportion of ultra-processed food in the diet was correspondingly associated with the incidence of depression.6 Moufidath Adjibade, Chantal Julia, Benjamin Allès, et al. "Prospective association between ultra-processed food consumption and incident depressive symptoms in the French NutriNet-Santé cohort." BMC Med. 2019; 17: 78. http://www.ncbi.nlm.nih.gov/pmc/articles/PMC6463641/
You can guess where this is going.
The sample used in the study included 20,380 women and 6350 men (aged 18–86) without depressive symptoms at the start of the study. Over a mean follow-up of 5.4 years, 2221 incident cases of depressive symptoms were identified. After accounting for a wide range of potential confounders, the study found a positive association between the percentage of ultra-processed foods in the overall diet and the risk of incident depressive symptoms. Positive associations were specifically found for beverages, sauces, and added fats.
Ultra-Processed Foods in the U.S. Diet
So, how big a problem are ultra-processed foods in U.S. diets? Well, a 2017 study published in Population Health Metrics evaluated the dietary intakes of 9,317 participants aged 1 and up from 2009 to 20107 Euridice Martínez Steele, Barry M. Popkin, Boyd Swinburn, and Carlos A. Monteiro. "The share of ultra-processed foods and the overall nutritional quality of diets in the US: evidence from a nationally representative cross-sectional study." Popul Health Metr. 2017; 15: 6. http://www.ncbi.nlm.nih.gov/pmc/articles/PMC5307821/ using data taken from the National Health and Nutrition Examination Survey.8 "National Health and Nutrition Examination Survey." CDC. Page last updated: May 8, 2019. http://www.cdc.gov/nchs/nhanes/index.htm The study found that the average content of protein, fiber, vitamins A, C, D, and E, zinc, potassium, phosphorus, magnesium, and calcium in the US diet decreased significantly as the amount of ultra-processed foods in the diet increased, while carbohydrates, added sugar, and saturated fat contents increased. So, yes, it's a huge problem.
Which brings us to the study of the day, the study that inspired this newsletter.
Diets High in Ultra-Processed Foods Cause Excess Calorie Intake and Weight Gain…Really Quickly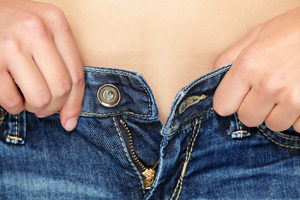 The increased availability and consumption of ultra-processed foods has long been "associated" with the obesity epidemic in a number of studies, but these studies were all observational, which means they couldn't prove that ultra-processed foods caused these outcomes, only that they were correlated. In other words, until now, scientists have not yet demonstrated that ultra-processed foods "cause" obesity or even the adverse health outcomes that we looked at earlier in our report. Which begs the question is there merely an association between ultra-processed foods and these health conditions, or are we talking about cause and effect. Researchers at the NIH decided to answer this question and investigate whether people ate more calories when exposed to a diet composed of ultra-processed foods compared with a diet composed of unprocessed foods. In other words, did the ultra-processed foods themselves trigger the bad behavior that led to their increased consumption?
Participants were randomly assigned to one of two diets that included breakfast, lunch, dinner, and snacks for two-week stretches. One group was fed an unprocessed diet full of whole or minimally processed foods like the day 2 dinner of stir-fried beef with vegetables, basmati rice and orange slices (see below). The other group ate an ultra-processed diet of meals such as the day 2 dinner of chicken salad sandwich made with canned chicken, jarred mayonnaise, and relish on white bread, served with canned peaches in heavy syrup (see below).9 Kevin D. Hall, Alexis Ayuketah, Robert Brychta, et al. "Ultra-Processed Diets Cause Excess Calorie Intake and Weight Gain: An Inpatient Randomized Controlled Trial of Ad Libitum Food Intake." Cell Metabolism 30 Supplemental Information. http://www.cell.com/cms/10.1016/j.cmet.2019.05.008/attachment/3e50c90d-ca83-48c3-80e4-82e925189f1b/mmc1.pdf There were seven entirely different menus for both diets, so meals were repeated only once for the participant during the two weeks of the study. When the two weeks were up, the groups were then assigned to the opposite diet plan.


Actual pictures of the unprocessed stir-fried beef and ultra-processed chicken salad sandwich meals as found in the study's Supplemental Information10 Kevin D. Hall Supplemental Information
Even though the study was small, it was also highly controlled. Researchers knew exactly how many macronutrients and calories participants were eating–and burning–because they took detailed metabolic measurements. The scientists tracked other health markers too, including blood glucose levels and even hormone levels. In fact, one thing that was intriguing about the data was that some of the hormones that are involved in food intake regulation were quite different between the two diets as compared to baseline.
And the result, as will be published in the August 6, 2019 issue of Cell Metabolism, is that despite the ultra-processed and unprocessed diets being matched to have the same number of daily presented calories, sugar, fat, fiber, and macronutrients, participants did indeed consume more calories when exposed to the ultra-processed diet as compared to the unprocessed diet.11 Kevin D. Hall, Alexis Ayuketah, Robert Brychta, et al. "Ultra-Processed Diets Cause Excess Calorie Intake and Weight Gain: An Inpatient Randomized Controlled Trial of Ad Libitum Food Intake." Cell Metabolism 30, 1–11 August 6, 2019. http://www.cell.com/cell-metabolism/fulltext/S1550-4131(19)30248-7 If that sounds like a contradiction, it's not. And the reason turns out to be very, very important. Even though the meals offered through the two diets had exactly the same number of calories per serving, study participants were allowed to eat as much or as little as they wanted of those meals. The result was that those on the ultra-processed diet ate an average of 508 calories more per day. They were simply hungrier and ate more. Something about ultra-processed foods drives people to eat more. Something drives this big effect on calorie intake.  As a result, people in the study ended up gaining an average of 2 pounds over a two-week period whereas people on the unprocessed diet ended up losing about 2 pounds on average. That's a four-pound differential, and it happened in just 14 days on these diets.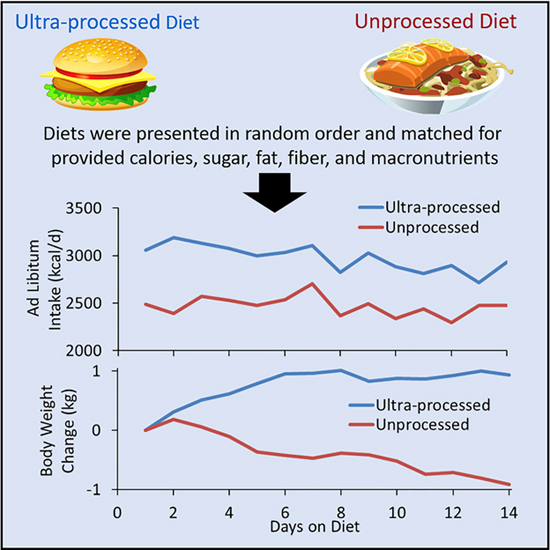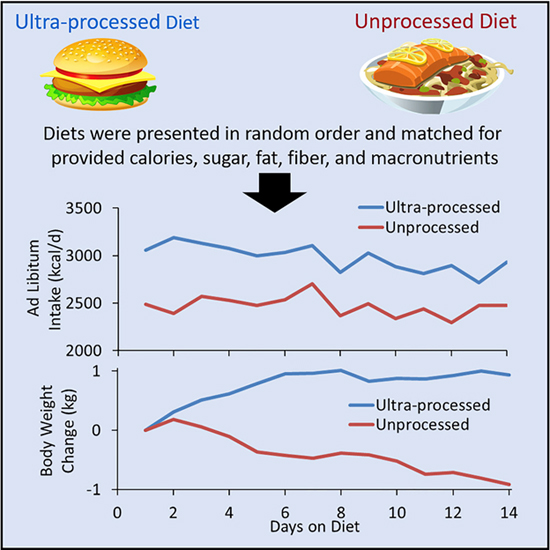 That's astonishing! And keep in mind that ultra-processed foods include not only the obvious things such as:
Chips
Candy
Beverages
Ready to eat meals
Packaged desserts
Store bought pastries
But also:
More than three-fourths of the honey sold in U.S. grocery stores (which is not true hone)
Breakfast cereals
National brands of white bread
Processed cold cuts
Jars of spaghetti sauce
Yogurt with added "stuff" and sugar
Most commercial peanut-butter
Etc.
And it's crucial because, as we discussed earlier, the majority of foods now sold in the U.S.–and increasingly, around the globe–are ultra-processed. The net result is that most people have no idea how much of their diet consists of ultra-processed foods–not a clue.
Final Thoughts About Ultra-Processed Food Diets VS Unprocessed Food Diets
One interesting observation from the study is that people ate much faster–both in terms of grams per minute and calories per minute–on the ultra-processed diet. Kevin Hall, the lead researcher in the study and a physiologist at the National Institute of Diabetes and Digestive and Kidney Diseases in Bethesda, Maryland, says it might be that, because the ultra-processed foods tended to be softer and easier to chew, people devoured them more quickly, so they didn't give their gastrointestinal tracts enough time to signal to their brains that they were full and ended up overeating.12 Maria Godoy. "It's Not Just Salt, Sugar, Fat: Study Finds Ultra-Processed Foods Drive Weight Gain." NPR. May 16, 2019. (Accessed 17 May 2019.) http://www.npr.org/sections/thesalt/2019/05/16/723693839/its-not-just-salt-sugar-fat-study-finds-ultra-processed-foods-drive-weight-gain And this can account for the difference in appetite control hormones in the two diets that we mentioned earlier. For example, when the participants were eating the unprocessed diet, they had higher levels of an appetite-suppressing hormone called PYY, which is secreted by the gut, and lower levels of ghrelin, a hunger hormone, which might explain why they ate fewer calories. On the ultra-processed diet, these hormonal changes flipped, so participants had lower levels of the appetite-suppressing hormone and higher levels of the hunger hormone.
Another interesting finding was that both groups ate about the same amount of protein, but those on the ultra-processed diet ate a lot more carbs and fat. There is a concept, called the protein leverage hypothesis, that suggests that people will eat until they've met their protein needs. Hall says that this seems to be the case in this study and it partially explains the difference in calorie consumption they found. Even though the meals were matched for calories and nutrients, including protein, the ultra-processed meals were more calorie-dense per bite. In part, that's because ultra-processed foods tend to be low in fiber, so researchers had to add fiber to the beverages served as part of these meals to match the fiber content of the unprocessed diet. That means participants on the ultra-processed diet might have had to munch through more carbs and fat to hit their protein needs.
Barry Popkin, a nutrition professor at the University of North Carolina, who was involved in the Population Health Metrics study but not the current research, says the take-home message for consumers is, "We should try to eat as much real food as we can. That can be plant food. It can be animal food. It can be beef, pork, chicken, fish or vegetables and fruits. And one has to be very careful once one begins to go into other kinds of food." But Popkin says the findings also present a challenge for the global food industry: how to preserve the convenience, abundance and low cost of food without sacrificing health.
A Plan of Action When It Comes to Ultra-Processed Foods
Look, if you have the self-discipline to avoid ALL ultra-processed foods, then more power to you. There's no need to read any further. But if you're like most readers, simply trying to eat as healthy as you can as often as you can, then read on. Here are some guidelines for dealing with ultra-processed foods.
First off, as much as possible, drop the following from your life. And yes, we both realize you're going to regularly fall off the wagon; but, when you do, get back up, brush yourself off, and give it a shot once again. We're talking.
Chips
Snack foods
Candy
Most carbonated beverages, as well as sports and energy drinks
Any processed meats that are made with nitrates, nitrites, or preservatives
Any prepackaged meals that are high in fats and carbohydrates and low in protein
Etc.
What you can partake of are any prepackaged meals that are high in protein and low in fats, carbohydrates, and calories. Remember, the protein leverage hypothesis says that you're going to keep eating until you satisfy your protein requirement. In other words, the more protein in the food, the less you're going to need to eat–and therefore, the less fat, salt, and high-glycemic carbs you're going to eat.
For your meal, combine the prepacked, ultra-processed food with a fresh salad, packed with many healthy vegetables, and with a clean dressing–or some lightly steamed of sautéed vegetables. This will accomplish several things.
It will provide essential fiber likely missing from your ultra-processed main course
Its very bulk will help fill you up, causing you to eat less
It will force you to chew, which will slow down your eating, again causing you to eat less
It will provide a range of nutrients not provided by your pre-packaged, ultra-processed main course

And let's conclude with a real-world example of how this works. In fact, let's jump into the teeth of the study by choosing one of the foods they used in their ultra-processed menu: the day 2 lunch, a pre-packaged quesadilla. So, what we'll look at is a version that you can easily buy the Trader Joe's Southwest Chicken Quesadillas with Seasoned Vegetables.
First, when you look at the list of ingredients, it looks really long, which is disturbing. But on closer inspection, it's not that bad. In the first half of the list, most of the ingredients are spices and flavorings like: cheese cultures, garlic powder, onion powder, and salt. In the bottom half of the list, a large chunk is devoted to the vitamins and minerals added to the "enriched flour." Again, in the world of ultra-processed food, that's not too bad.
Calories are only 400 per serving, which is not bad for the main course in a main meal. Carbs are 38g, which is a little high. But only 4 of those grams are from sugar, which is very good. Fat is not bad at 18g, and cholesterol is only 55 mg, which is very good. The one bad number is sodium, which at 490mg is a bit high, but manageable if the rest of your day's meals are cleaner.
And the big plus is 23g of protein. That's a really good number for an ultra-processed food.
Now, combine that with a large, fresh salad, with a light, clean, homemade dressing (something that was not done when the quesadilla was served in the study), and you have:
A satisfying meal. The salad will fill you up, so you only need one quesadilla as your meal, not two
You'll get a solid chunk of protein that will lead to quicker satiety
Lots of fiber from the salad to help move out the waste the following morning
Lots of chewing, again from the salad, to slow down your eating and extend your meal–allowing time for your appetite control hormones to kick in
A whole complement of vitamins and minerals
Keep in mind, I'm not recommending that you eat quesadillas. Nor am I endorsing the Trader Joe's ultra-processed version in particular. I'm just saying that in the world of ultra-processed foods, it's clean and can be made to work as part of a healthy meal that allows you to sidestep most of the pitfalls associated with these types of food. Bottom line: not all ultra-processed foods are the same. Some are horrible for your health; and some are merely not particularly healthy, which means you can work with them. If you eat ultra-processed foods, those are the ones to eat.
Or to put this another way, to paraphrase the old most interesting man in the world ads, "You shouldn't always eat ultra-processed foods, but when you do, you should choose them wisely and eat them with a large salad or serving of lightly steamed or sautéed fresh vegetables to mitigate the damage." Do that, and you're likely to live a long and healthy life.
References

↑

1
Sandra V. Aguayo-Patrón and Ana M. Calderón de la Barca. "Old Fashioned vs. Ultra-Processed-Based Current Diets: Possible Implication in the Increased Susceptibility to Type 1 Diabetes and Celiac Disease in Childhood." Foods. 2017 Nov; 6(11): 100.

http://www.ncbi.nlm.nih.gov/pmc/articles/PMC5704144/

↑

2
Sandra V. Aguayo-Patrón

↑

3
Hannah M. Wexler. "Bacteroides: the Good, the Bad, and the Nitty-Gritty." Clin Microbiol Rev. 2007 Oct; 20(4): 593–621.

http://www.ncbi.nlm.nih.gov/pmc/articles/PMC2176045/

↑

4
K.G.M.M. Alberti, Robert H. Eckel, Scott M. Grundy, et al. "Harmonizing the Metabolic Syndrome: A Joint Interim Statement of the International Diabetes Federation Task Force on Epidemiology and Prevention; National Heart, Lung, and Blood Institute; American Heart Association; World Heart Federation; International Atherosclerosis Society; and International Association for the Study of Obesity." Circulation October 20, 2009 Vol 120, Issue 16.

http://www.ahajournals.org/doi/10.1161/CIRCULATIONAHA.109.192644

↑

5
Steele EM, Juul F, Neri D, Rauber F, Monteiro CA. "Dietary share of ultra-processed foods and metabolic syndrome in the US adult population." Prev Med. 2019 May 8. pii: S0091-7435(19)30172-0.

http://www.ncbi.nlm.nih.gov/pubmed/31077725

↑

6
Moufidath Adjibade, Chantal Julia, Benjamin Allès, et al. "Prospective association between ultra-processed food consumption and incident depressive symptoms in the French NutriNet-Santé cohort." BMC Med. 2019; 17: 78.

http://www.ncbi.nlm.nih.gov/pmc/articles/PMC6463641/

↑

7
Euridice Martínez Steele, Barry M. Popkin, Boyd Swinburn, and Carlos A. Monteiro. "The share of ultra-processed foods and the overall nutritional quality of diets in the US: evidence from a nationally representative cross-sectional study." Popul Health Metr. 2017; 15: 6.

http://www.ncbi.nlm.nih.gov/pmc/articles/PMC5307821/

↑

8
"National Health and Nutrition Examination Survey." CDC. Page last updated: May 8, 2019.

http://www.cdc.gov/nchs/nhanes/index.htm

↑

9
Kevin D. Hall, Alexis Ayuketah, Robert Brychta, et al. "Ultra-Processed Diets Cause Excess Calorie Intake and Weight Gain: An Inpatient Randomized Controlled Trial of Ad Libitum Food Intake." Cell Metabolism 30 Supplemental Information.

http://www.cell.com/cms/10.1016/j.cmet.2019.05.008/attachment/3e50c90d-ca83-48c3-80e4-82e925189f1b/mmc1.pdf

↑

10
Kevin D. Hall Supplemental Information

↑

11
Kevin D. Hall, Alexis Ayuketah, Robert Brychta, et al. "Ultra-Processed Diets Cause Excess Calorie Intake and Weight Gain: An Inpatient Randomized Controlled Trial of Ad Libitum Food Intake." Cell Metabolism 30, 1–11 August 6, 2019.

http://www.cell.com/cell-metabolism/fulltext/S1550-4131(19)30248-7

↑

12
Maria Godoy. "It's Not Just Salt, Sugar, Fat: Study Finds Ultra-Processed Foods Drive Weight Gain." NPR. May 16, 2019. (Accessed 17 May 2019.)

http://www.npr.org/sections/thesalt/2019/05/16/723693839/its-not-just-salt-sugar-fat-study-finds-ultra-processed-foods-drive-weight-gain